Sandwell Business Ambassadors' wishes for 2022
21st December 2021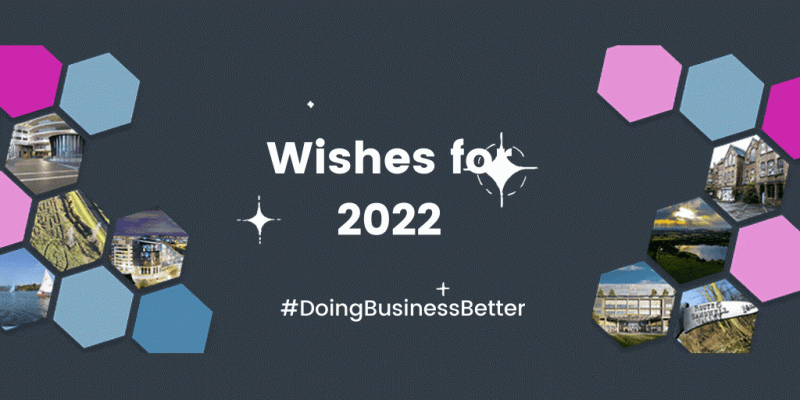 With coronavirus cases rising rapidly again, it's hard to know what the start of 2022 will look like. We asked the Sandwell Business Ambassadors about their wishes for Sandwell next year – and here's what they said.
John Wood DL is a director at Liberty Engineering Group. He wishes for:
"Supply chains and prices stabilising"
This was echoed by Brian Cape who wished for: "A steadying of supply chain (notably food) and workforce availability". Elaine Bruce added to this with hopes that the haulier crisis will also be resolved.
"To be able to meet up again without worrying about Covid"
Brian Cape also looks forward to "Covid coming under proper control so that we (businesses, friends, family, children, and so on) can meet, share, learn, collaborate and celebrate in person". John and Elaine agreed. Jan Denning said one of her wishes is, "For everyone to be safe and healthy and, for our mental health, to able to socialise, attend events and meet face to face without fear".  Hear, hear!
"More Black Country applicants for the Queen's Awards for Enterprise"
John's role as a West Midlands Deputy Lieutenant means he is also a nominated representative of Her Majesty the Queen. His wish to see more local businesses nominate themselves for a Queen's Award for Enterprise is a cause close to all our hearts. A Queen's Award is the UK's most prestigious business prize and can be transformative for a company's success and reputation. But Black Country businesses are woefully under-represented amongst entrants and winners each year. Are we too modest as a region? Our lack of Queen's Awards is definitely not down to a lack of talent or hard work.
For inspiration to apply (and make John's wish come true!), read about KMB Shipping Group (co-owned by another Sandwell Business Ambassador, Paul Hull) being presented with its Queen's Award last week. See our page of resources for application support – and make it your new year's resolution to enter in 2022!
Brian Cape, who is CEO of SIPS Education, said he wishes for:
"A levelling-off of inflation, notably around food and utilities"
"Progress toward greater community wealth-building in Sandwell – spending and employing locally for social value"
This is another priority for the Sandwell Business Ambassadors. We held several focus groups in 2021 with members of Sandwell Council's cabinet to discuss ways the council can remove barriers for Sandwell companies to win more work locally. We also want big buyers to be more accountable in their responsible buying habits, to ensure money spent on local developments is retained and recycled in the area for the good of people, jobs and communities.
"Political stability, integrity and common-sense!"
"Measurable strides toward environmental sustainability"
As owner and director of the Hospitality Partnership and founder and managing director of Destination Wolverhampton and The Black Country, Jan Denning is especially passionate about our region's tourism and hospitality sector. Jan wishes for:

"A truly collaborative approach to develop the region's vast and unique tourism and hospitality opportunities"
"To celebrate and promote our region's uniqueness and warm welcome"
"Investment and focus for growth in the hospitality and tourism sector".
May we take this opportunity to wish you a relaxing Christmas break with the people you love. Keep safe – and see you in 2022!