Press coverage
Here you'll find media coverage of the Sandwell Business Ambassadors as a collective. For interviews or comments from an Ambassador please contact us with full details of your request.
Sandwell Business Ambassadors in the media
'Queen's Award success' – spring 2022, Sandwell Herald (page 13)
An article encouraging Sandwell businesses to apply for a Queen's Award, with Sandwell Business Ambassadors Paul Hull and Corin Crane.
'Shipping group singled out for top business honour' – December 2021, Express & Star
An article about KMB Shipping's Queen's Award for Enterprise mentions that director Paul Hull is a Sandwell Business Ambassadors.
'Meet the Sandwell Business Ambassadors' – Winter 2021, Sandwell Herald (page 15)
An introduction to the Ambassadors, from chair Alan Taylor.
'Chief executive joins ambassadors' – August 2021, Express & Star
'Sandwell Business Ambassadors welcomes new addition' – August 2021, Halesowen News
Brian Cape of SIPS Education becomes the latest Black Country business leader to join the Sandwell Business Ambassadors.
'Sandwell firms urged to follow example of KMB' [PDF clipping] – May 2021, Express & Star (print)
We put out a rallying cry for Black Country businesses to put themselves forward for the Queen's Awards in 2022, following the success of KMB Shipping in 2021 – the only Black Country-based business to win this prestigious award.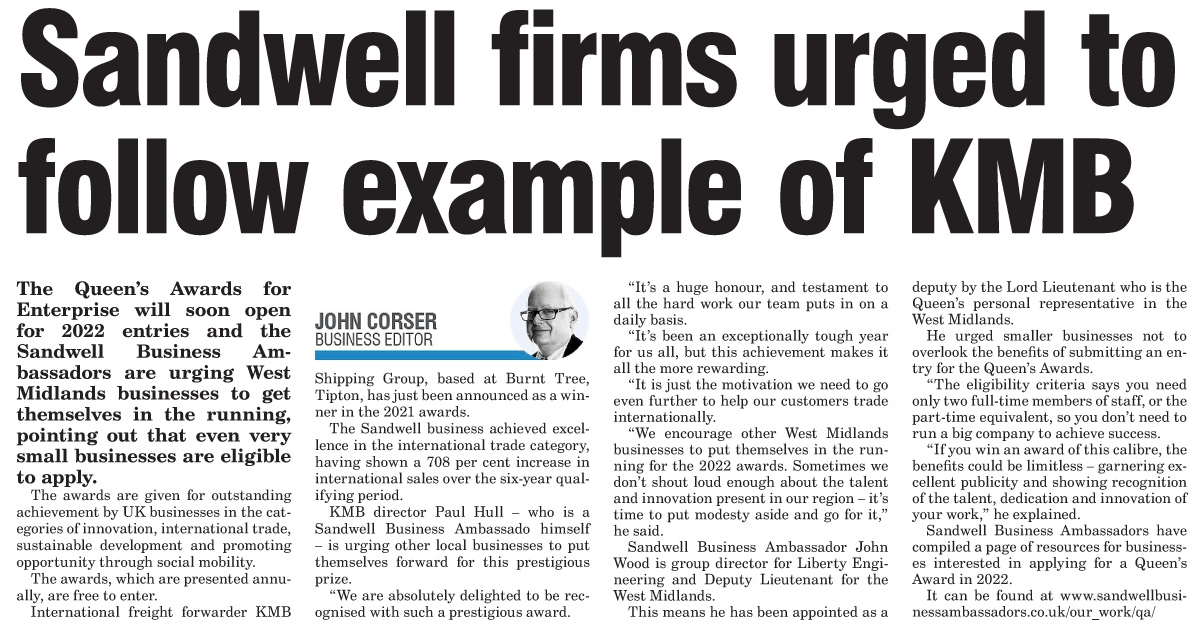 'IT expert and businesswoman ready to retire' – May 2021, Express & Star
Sandwell Business Ambassador Chris Hinson announces her retirement from SIPS Education – and we're delighted to keep her on as an independent Ambassador.

'Welcoming four new Sandwell Business Ambassadors' – March 2021, Insite (page 11)
A feature in Sandwell Council's Spring 2021 edition of its digital regeneration and growth magazine Insite welcomes our four newest Ambassadors: Anjali Agrawal of CMT Engineering, Gurpreet Bhatia of Harbans Singh & Co Solicitors, Jan Denning of The Hospitality Partnership and Destination
Wolverhampton and The Black Country, and Paul Haywood of Lift Craft Ltd.
'Business group looking for new members to help shape Sandwell's economic recovery' – September 2020, Express & Star
We issue a callout to recruit more Ambassadors and bolster our existing team – with a special wish to better represent the culturally diverse population of Sandwell.
'Online meet the buyer event for new landmark hospital' – September 2019, Express & Star
We encourage local businesses to attend our 'meet the buyer' event with Balfour Beatty, main contractor for the Midland Metropolitan University Hospital, and find out first hand how to secure contracts on this huge regeneration project.
'Three years to go: Birmingham Commonwealth Games logo revealed as preparation continue' – July 2019, Shropshire Star
Sandwell Business Ambassadors Corin Crane and our chair Alan Taylor comment on the exciting business opportunities that the Birmingham Commonwealth Games 2022 will bring to the West Midlands.
'Google event in West Bromwich' – February 2019, Express & Star
We announce that we're hosting an event in West Bromwich with Google Digital Garage to offer local businesses free coaching on their digital skills to help them grow their business, career and confidence.
'Time to address women in STEM shortage' – June 2018, Express & Star
Sandwell Business Ambassador Elaine Bruce says it is time to address the shortage of women working in the fields of science, technology, engineering and mathematics.