"Write our own story": why more businesses should follow KMB Shipping to the Queen's Awards
15th December 2021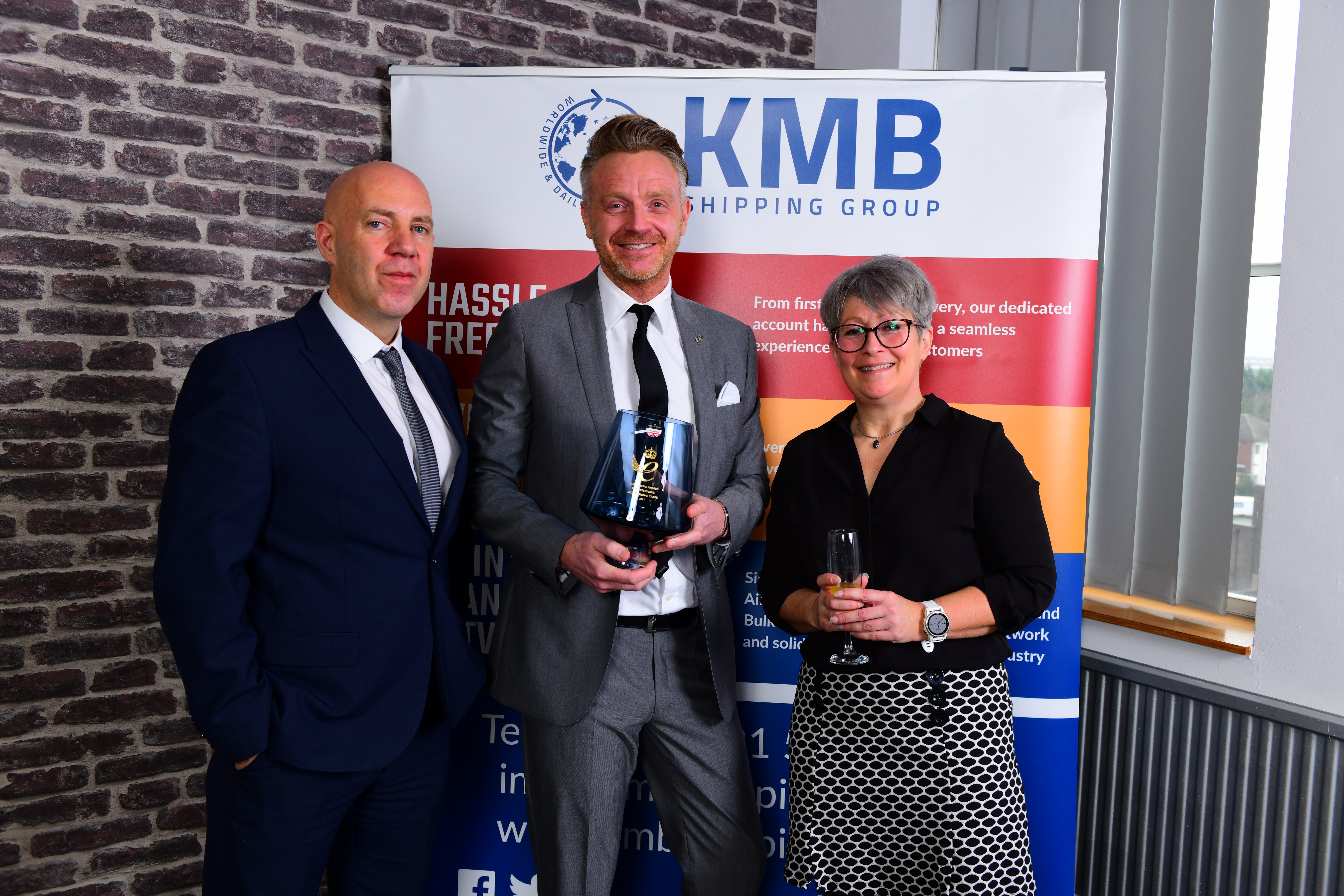 Congratulations to KMB Shipping Group – the business co-owned by Sandwell Business Ambassador Paul Hull – which was formally awarded this week (Tuesday 14 December) with its Queen's Award for Enterprise in the category of International Trade.
In a small but prestigious ceremony in Tipton, Lord-Lieutenant John Crabtree presented the KMB team with their Grant of Appointment and crystal trophy.
Lord-Lieutenant John Crabtree attended as a representative of her Majesty the Queen for the West Midlands, explaining the tradition established by King Henry VIII which gives the reigning English monarch deputy representatives in each county.
"That makes me 475 years old," he joked.
"Write our own story"
On a serious note, Lord-Lieutenant Crabtree spoke of the need for the West Midlands to get better at promoting itself on a global scale; to "write our own story" rather than have others tell it for us.
He addressed a point close to the Sandwell Business Ambassadors' hearts: the under-representation of West Midlands businesses among winners of the Queen's Awards.
According to Lord-Lieutenant Crabtree, we have 4.2 per cent of the nation's population living here in the West Midlands and should therefore (per capita) be winning around twelve awards every year. In 2021 it was just two*.
That's one of several reasons KMB Shipping's award is so significant for our county – and Sandwell in particular.
The freight forwarding firm's prestigious win comes as a result of growing sales year on year for six years, from £139,000 to £1.1 million – a growth rate of 708 per cent. It works with 31 international clients in 18 countries; its top five markets are Italy, USA, Germany, UAE and Hong Kong, and over the last six years it has entered new markets in Kenya, Spain, Qatar and Egypt.
"What you've achieved is taking this area [ . . .] all over the world," said Lord-Lieutenant Crabtree, who wished KMB "many, many congratulations" on behalf of the Queen.
Putting Sandwell on the map
Following the ceremony, Paul took the opportunity to praise his team, past and present, and encourage other Black Country businesses to put themselves forward for a Queen's Award.
"We look forward now to taking this business to the next level and in banging the drum for Sandwell and Dudley," he said.
We'd like to take this opportunity to praise the team for putting Sandwell on the map too.
As the Ambassadors are keen to point out, winning a Queen's Award for Enterprise can be transformative for a company.
Judged to demanding standards, the awards are recognised as the most prestigious business prizes in the United Kingdom. They are handed out each year for outstanding achievement by UK businesses in the categories of innovation, international trade, sustainable development and promoting opportunity through social mobility.
KMB Shipping is now allowed to fly the Queen's Award flag at its premises and display the emblem in its marketing materials, for the next five years.
Nominate your business for a Queen's Awards for Enterprise
If you're interested in entering your Black Country business for a Queen's Award in 2022, check out our page of Queen's Awards resources, overseen by Sandwell Business Ambassador John Wood, who is also a deputy lieutenant.
*West Midlands defined here as county, not wider region.
Pictured at the top: Paul Hull (centre) with fellow Sandwell Business Ambassador Corin Crane (left) and Nicy Morgan of Sandwell Council.
We encourage Sandwell businesses to apply for the King's Awards