Towns Fund: five regeneration projects in Smethwick get the go-ahead
25th May 2022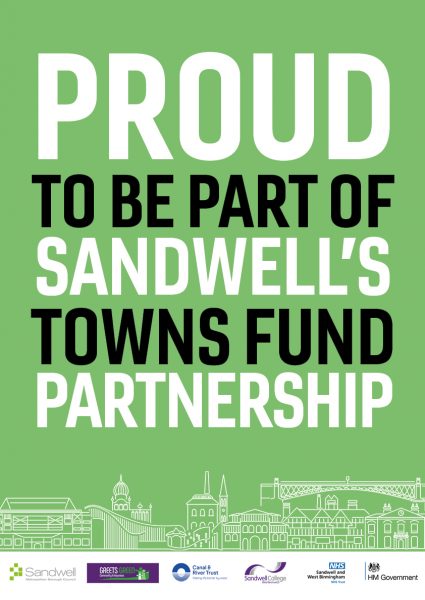 Sandwell's ambitious Towns Fund Programme has taken a huge step forward, with the government giving the go-ahead for £23.5m of funding for five Smethwick regeneration projects.
As we explained at the end of March, Towns Fund initiatives aim to boost businesses, improve infrastructure, encourage enterprise and bring communities together. In 2020, Rowley Regis, Smethwick and West Bromwich were among 101 places selected by central government to bid for the national funding.
Over the past 18 months, several organisations (including Sandwell Council, Sandwell and West Birmingham NHS Trust) have been developing proposals for five Smethwick projects. Chair of Sandwell Business Ambassadors Alan Taylor is on the board for the Smethwick Town Fund.
The government's approval of the funding for the Smethwick projects is great news for Sandwell.
Together the projects will have the power to positively impact Smethwick residents in different ways, enriching lives and helping to build a better future. As it is a five-year programme, projects will come to life at different points during this period.
The five Smethwick projects are:
• Expansion of the Ron Davis Centre (Sandwell Council)
The development of the learning centre for adults aged 19+ will provide a greater range of services to the wider Smethwick community, increasing the quality and breadth of local skills.
• Midland Met Learning Campus (Sandwell and West Birmingham NHS Trust)
A major new skills resource next to the Midland Met University Hospital development, providing training in health care and healthcare-related positions.
• Grove Lane Regeneration (Sandwell Council)
The acquisition and remediation of a selected site within the area to accelerate regeneration for housing delivery.
• Rolfe Street Canalside Regeneration (Sandwell Council)
The demolition and remediation of the site to free up land for a development-ready location, which will provide much-needed housing to support the wider regeneration of the town.
• Smethwick Connected (Sandwell Council)
A scheme to improve access and connectivity within Smethwick by delivering cycling and walking infrastructure improvements, and enhance safety.
The five approved projects will deliver:
• 31 full-time equivalent jobs
• 155 temporary jobs
• 1,380 learners enrolled onto courses
• 30,000sqm of land remediated for future development
• 2.7km of new cycle ways
• 3.6km of new pedestrian paths.
Councillor Peter Hughes is Sandwell Council's cabinet member for regeneration and growth. He said: "We welcome the government's approval for our five Smethwick projects, which will make a real difference to our residents. By working together in partnership, we will strengthen our businesses, enhance our infrastructure, boost Sandwell's entrepreneurial spirit, bring communities together and create a fairer, more resilient Sandwell".
Jude Thompson is chair of the Towns Fund Superboard in Sandwell. Jude said: "I'm extremely proud that Smethwick projects have been approved and are moving ahead to the next stage. This is an amazing opportunity for everyone involved to help shape the local area for the future. These projects will make a difference to so many local people's lives and our communities."
Sandwell Business Ambassador Alan Taylor, in his capacity as chair of Smethwick Local Board, said: "The Smethwick Towns Fund is a valuable opportunity to make a real difference to the people and businesses of Smethwick and the wider area of Sandwell. I believe that these investments, together with the Smethwick Connected transport infrastructure projects, will help Smethwick prepare for the next successful part of its history."
About the other Towns Fund bids in Sandwell
Sandwell Council has worked with Sandwell and West Birmingham NHS Trust, Canal & River Trust, Greets Green Community Enterprise Centre and Sandwell College (Sandwell's Towns Fund Partnership) to help secure £67.5 million Towns Fund investment in total for Sandwell. This is the largest amount for any local authority area under the Towns Fund programme.
To date, eight out of 16 projects have been approved by the government. Sandwell's Towns Fund Partnership looks forward to receiving a response from the government on the Rowley Regis Town Deal projects and the remaining West Bromwich projects.