Three further Towns Fund projects approved
26th July 2022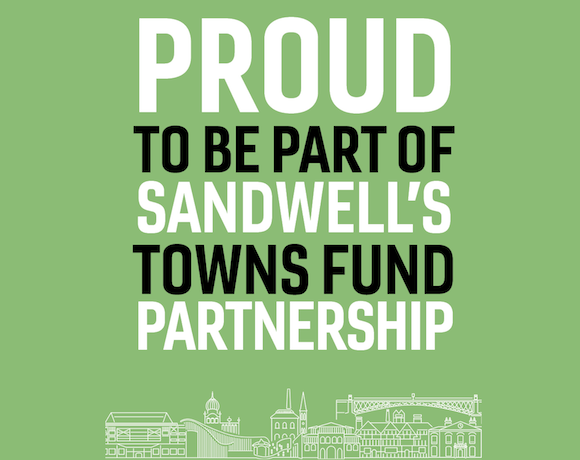 The government has officially approved three Towns Fund projects for West Bromwich, worth £25m. This means Sandwell has been successful in securing funding for all sixteen of its proposed Towns Fund projects.
The total Towns Fund investment secured for the borough by Sandwell Council and its partners is £67.5m.
About the Towns Fund bids in Sandwell
In 2020, Rowley Regis, Smethwick and West Bromwich were among 101 places selected by central government to bid for funding in the national Towns Fund initiative. Sandwell Council worked in partnership with Sandwell and West Birmingham NHS Trust, Canal & River Trust, Greets Green Community Enterprise Centre and Sandwell College to help secure investment for sixteen projects across the three towns: five for Rowley Regis, five for Smethwick and six for West Bromwich.
West Bromwich Towns Fund projects
In February 2022, an initial three projects for West Bromwich were approved:
A 'digital den' to help local people get online
A new technical campus for Sandwell College
More green space for the town centre.
The final three projects now approved are:
The restoration and renovation of the Town Hall and Central Library
The regeneration of West Bromwich town centre
New walking and cycling routes to and within the town centre
All 16 Sandwell projects will be delivered in phases over the next five years.
'A new future for West Bromwich and its residents'
Councillor Peter Hughes, Sandwell Council's Cabinet Member for Regeneration and Growth, said: "The funding will benefit local people and businesses, and reinforce the borough's strategic advantage as a business location, by improving transport links, boosting learning and training opportunities, and enhancing West Bromwich town centre."
Jude Thompson, Chair of Towns Fund Superboard, said: "These Towns Fund projects will make a real difference in and around West Bromwich, the aim will be to improve these areas making them a more sociable and welcoming environment for the local community and visitors."
Chris Hinson, Chair of West Bromwich Local Board and Sandwell Business Ambassadors, said: "This fund offers a real opportunity to begin work towards a new future for West Bromwich and its residents and to create a town centre that encourages all ages to partake in educational, cultural and recreational activities whilst supporting the creation of good quality employment and housing."