Skills for our region: WMCA hosts visit from HS2 leaders
22nd July 2020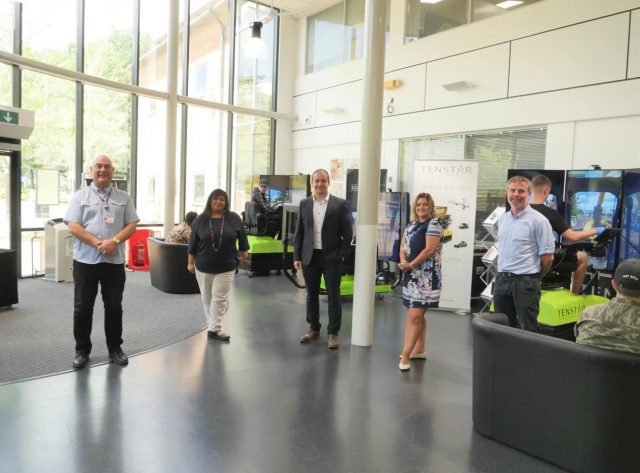 West Midlands Combined Authority (WMCA) has hosted representatives from Balfour Beatty VINCI to show how our region is upskilling local people to work on the High Speed 2 rail project.
Balfour Beatty VINCI, a joint venture between two global infrastructure leaders, is responsible for earthworks, ground engineering, viaducts and tunnels along a 90km stretch of HS2, between the Long Itchington Wood Green tunnel in the south to the West Coast Main Line tie-in near Lichfield in the north with a major junction into central Birmingham at Curzon Street.
During the visit to Solihull on Friday (17 July), Balfour Beatty VINCI shared its experience of delivering social value, showing how the construction of high-speed rail projects across the world has provided long-term benefits to communities in those areas.
In turn, Balfour Beatty VINCI saw how local people are learning new skills to help the West Midlands build its way out of the COVID-19 economic shutdown, thanks to WMCA's Construction Gateway programme.
There were demonstrations of the new construction simulator training centre at Solihull College & University Centre – which we reported on in June – and hands-on civil engineering and plant training at training provider RMF Construction's academy in Solihull.
Andy Street, Mayor of the West Midlands, said: "HS2 is Europe's biggest infrastructure project and will be vital to our region's economic recovery from the COVID-19 pandemic.
"At a time of such economic uncertainty we need to use major schemes like HS2 to help secure people's employment and create jobs for those who sadly fall out of work. The WMCA's Construction Gateway aims to support construction projects like HS2, by offering free training and a guaranteed job interview to those who are unemployed or at the lower end of the jobs market.
"I'm very pleased that the delegation from Balfour Beatty VINCI have taken the time to come and see this fantastic work we're funding, and I am sure we will continue to work together on future projects to help create local jobs for local people."
HS2 Ltd is currently searching for people to play a part in the delivery of Britain's new low-carbon high-speed railway. It is recruiting for over 300 roles, across a range of disciplines, to be based at its flagship head office in Birmingham. Local people are being prioritised in the job search.
Potential candidates should take part in the skills match assessment at www.hs2.org.uk/hs2-and-you.
The WMCA's Construction Gateway programme offers unemployed people, or those on short-hours contracts or low-skilled jobs, free construction training and a guaranteed job interview at the end of the course.
To sign up for construction training, contact the National Careers Service West Midlands on 0121 296 5550, or find out more information about the National Careers Service via nationalcareersservice.direct.gov.uk or by calling 0800 100 900.
You can also find links to new job opportunities and online adult education training by visiting WMCA's COVID-19 support site.
Pictured left to right at Solihull College & University Centre: John Callaghan, principal and CEO of Solihull College & University Centre, Shilpi Akbar, skills, employment and education lead at Balfour Beatty VINCI, Matthew Munn, head of supply chain management at Balfour Beatty VINCI, Clare Hatton, head of skills delivery at the WMCA, and Ray McGee, managing director at RMF Construction.