Secrets to success: Sandwell's Top 50 fastest growing companies for 2018 are revealed
8th August 2018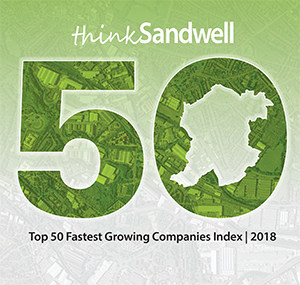 Celebrating the achievements of Sandwell's rising stars, the index lists the 50 top-ranked companies in Sandwell in terms of rate of growth in turnover.
This is the fourth year in which Think Sandwell have published a Top 50 report. They launched this year's report at the annual Sandwell Business Awards, which took place at Sandwell College in West Bromwich and were hosted by ITV's Sameena Ali-Khan.
"[The report] celebrates the 50 fastest growing businesses in Sandwell of the year. It thanks them for their huge contribution to local employment and the local economy. And, hopefully, it encourages other businesses to think about growing by investing in new people, launching new products, moving to bigger premises, accessing new markets and taking on new contracts," said Sameena.
The 50 businesses for 2018 have a combined revenue of £2.2bn and collectively employ over 9,000 people. Twenty-eight have enjoyed 10 per cent or greater growth in turnover over the past year, while the top 13 have seen growth of 20 per cent or more.
The figures reflect the heritage and specialisms of the Black Country, with just under half of the Top 50 businesses engaged in manufacturing. Twenty-four per cent are in retail and wholesale, while 14 per cent are involved with construction.
DPD Local UK (part of the DPD Group), the national carrier service with headquarters in Smethwick, showed the highest revenue of all, at £283m.
The company topping the list – West Bromwich-based Esprit UK which specialises in shop fitouts – had a growth rate of nearly 50 per cent. According to finance manager Simon Eden, Esprit's growth in sales can be partly attributed to exporting its own joinery to Europe, the Middle East and Australasia.
"This bespoke manufacture has included hours of research and development by our experienced employees," he said.
In the report three further businesses reveal what boosted their turnover this year, citing investments in people, marketing, products and premises.
Councillor Steve Eling, Leader of Sandwell Council, said: "Publishing this index forms part of Sandwell Council's ongoing support for local companies, thanking them for their contribution to West Midlands' prosperity in both economic and employment terms.
"I would like to congratulate all the businesses featured in the Top 50 and extend these congratulations to every business continuing to thrive despite economic and political challenges.
"As always, I am proud to see the spirit of hard work and innovation that persists in Sandwell and the wider Black Country".
This article was originally published by Think Sandwell on 13.07.18