Sandwell Business Ambassadors support Black Country Expo
4th February 2019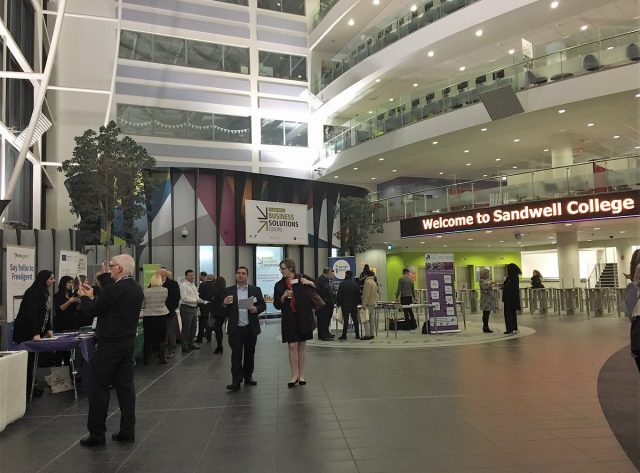 SANDWELL BUSINESS AMBASSADORS SUPPORT BLACK COUNTRY EXPO
Representatives from Sandwell Business Ambassadors took part in the first of a new series of mini expos, which have been launched by the Black Country Chamber of Commerce.
The expo is a showcase and networking opportunity, and is aimed at businesses looking to work alongside the Chamber's members, patrons and commercial providers, together with exhibitors in the many sectors the region has to offer.
Alan Taylor, Chair of Sandwell Business Ambassadors and Managing Director of Smethwick-based glass processor MiGlass Ltd; John Wood, Director of Group Corporate Services at Liberty Engineering Group Pte Limited; and Melvin Wingfield, Director at A&M EDM Limited, all attended the event on 30th January at Sandwell College to make new connections, meet regional businesses and further increase the awareness of the ambassador network.
Alan Taylor commented: "It's a key aim for the ambassadors to attend as many events as possible this year, to not only champion business interests in the area and communicate just what Sandwell has to offer, but to demonstrate the programme's services too.
"It's important for us, as ambassadors, to represent Sandwell in the wider community, and having a presence at events such as this enables us to do this. We are all passionate about the borough and will be looking to also host our own events in 2019 to champion business interests in the area and support local SMEs even further."
Corin Crane, a new Sandwell Business Ambassador and Chief Executive at Black Country Chamber of Commerce, said: "This event is the first of our new series of mini expos, which will run throughout the year based in each of our four areas, to provide a great networking and showcasing opportunity for local businesses.
"15 local companies exhibited at the expo and we're looking forward to welcoming even more at the next event."