Congratulations to Paul Hull, Black Country Business Person of the Year
24th October 2022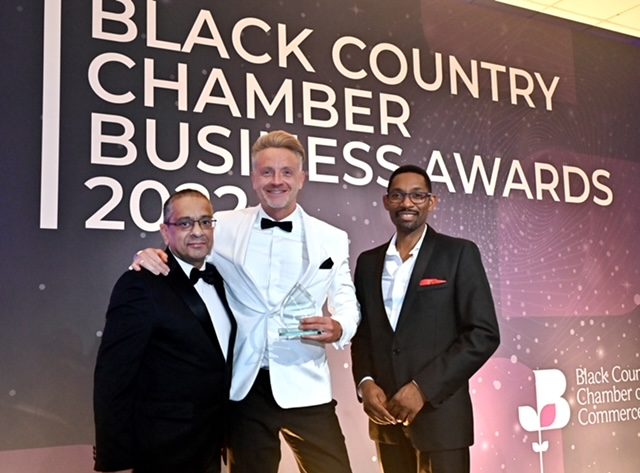 Paul Hull, Sandwell Business Ambassador, was crowned Black Country Business Person of the Year at the Black Country Chamber Business Awards 2022. We couldn't be prouder!
Celebrating the achievements of regional firms, the black-tie awards do at Wolverhampton Racecourse on Friday 14 October was the Chamber's first in-person awards experience since 2019. It was hosted by weather presenter Des Coleman and attended by nearly 500 people from the Black Country's private, public and third sectors.
In this wonderful evening for Sandwell businesses, each of the fourteen award categories saw at least one Sandwell-based organisation in the running as finalists. Five Sandwell businesses were overall winners. Four took 'highly commended' awards.
To top it all off, the winner of the final category – Black Country Business Person of the Year – was our very own Sandwell Business Ambassador Paul Hull.
A trailblazer for the Black Country
Paul is director and co-owner of KMB Shipping – the Queen's Award-winning freight forwarding company based in Tipton.
Judges said: "Paul stood out for his commitment to his industry, his organisation, and the Black Country region. Paul's rise from the bottom to the top of his organisation is testament to his determination, drive, energy and good humour. He adopts an innovative and reflexive approach to business, making staff wellbeing his priority, engaging them to achieve their best. A serial entrepreneur, Paul is inspirational, enthusiastic and fair. He works with schools to inspire the next generation and is a trailblazer for the Black Country. His energy enthuses all those who do business with him."
Congratulations to Paul Hull! Thank you to him and all our business leaders who advocate for Sandwell and make it an even better place to live and work.  
Paul Hull is pictured centre of the picture. Des Coleman is on the right and left is Sukhninder Panesar, Director of the University of Wolverhampton's Business School.