Openreach to create 200 engineer jobs across the West Midlands
8th June 2018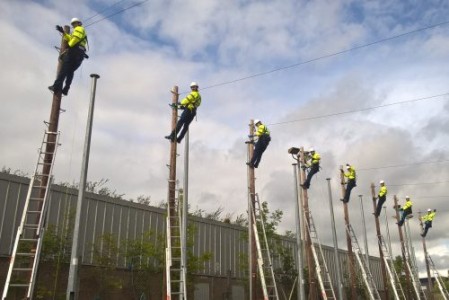 In a recent press release, Openreach announced that it will hire more than 200 trainee engineers across the West Midlands as part of its largest ever recruitment drive.
The announcement follows news that Openreach, BT Group's digital network company, will accelerate plans to build more ultrafast Fibre to the Premises (FTTP) broadband across the country.
The 204 new roles for the West Midlands are part of 3,500 roles available across the UK over the next 12 months. They will be located around the region, including in Wolverhampton, Worcester, Birmingham, Bridgnorth, Coventry, Dudley, Hereford, Kidderminster, Stafford, Stourport and Stratford-upon-Avon.
Openreach has also announced plans to invest £100,000 over the next 12 months developing a new fibre engineering academy at its Yarnfield Park training centre, near Stone, in Staffordshire.
The new trainees will join Openreach's team of telecoms engineers working to expand, upgrade, maintain and install new services over its national broadband network. Its 'Fibre First' programme will deliver expanded full-fibre FTTP networks in up to 40 towns, cities and boroughs, with the aim of reaching ten million British premises by the mid-2020s.
Chief executive of Openreach Clive Selley said: "These trainee engineers will be playing a vital role in the future success and prosperity of the UK.
"Every day, Openreach engineers are working in all weathers across the length and breadth of Britain, connecting homes and businesses and making sure people can access the high-quality broadband services they need."
Richard Hall, infrastructure delivery director for Openreach in the West Midlands, said: "This latest recruitment represents a further major investment in the West Midlands. It's very exciting news for our region. We're looking forward to men and women from all walks of life applying for these roles at Openreach as we're keen to engage with the aspiring engineers of tomorrow and to build a diverse workforce that reflects the hugely diverse communities we serve.
"Becoming an engineer can be an incredibly rewarding career, and we're constantly improving our training and recruitment programmes to make sure we attract and keep the best engineers in the business. This year we've invested heavily in upskilling our people, so they can now do more for customers in a single visit and we recently launched new career pathways to give our engineers a clear sense of the skills, accountabilities and experience they need to get where they want to be."
Have you recently relocated to the Black Country for work? Or would you like to see your home borough with new eyes now summer is on its way? Check out Sandwell Council's Discover Sandwell website here: http://www.discoversandwell.co.uk/.
This article was published by Think Sandwell on 08.05.18