Meet our new Sandwell Business Ambassadors
21st December 2020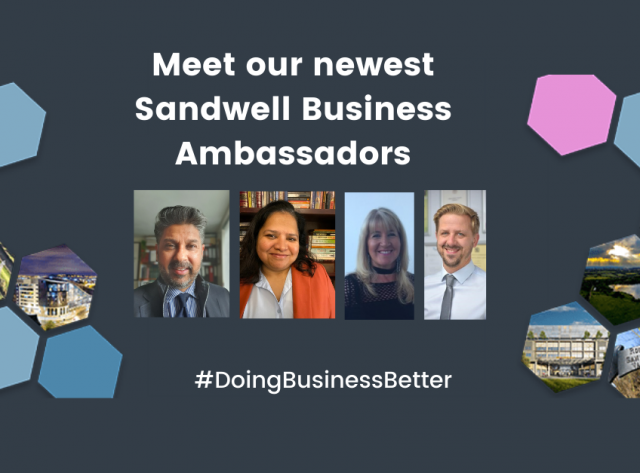 Following our recruitment campaign in September, four inspirational local businesspeople have joined us as Sandwell Business Ambassadors, bringing their experience and expertise to the team.
Anjali Agrawal is a chartered accountant and CEO of CMT Engineering, based in Cradley Heath. She grew up in India, studied in London, and has also lived in Nigeria and the USA, so can contribute a very international perspective to business in the region.
Anjali said: "People in the Black Country region are especially great to work with: down to earth, with a lot of common sense, honest and hard working. Since relocating from America and acquiring this business, I have received a lot of support locally. Being a Sandwell Business Ambassador is my chance to give back to the Sandwell borough and promote economic growth in our area."
Bringing a legal perspective is Gurpreet Bhatia, who specialises in commercial and residential property and private immigration cases. He is a partner at Harbans Singh & Co Solicitors, a legal firm with offices in Oldbury and Handsworth. Having lived in Sandwell for most of his life, Gurpreet is passionate about supporting local people to reach their potential.
Gurpreet said: "The people of Sandwell are the borough's greatest strength and serving them gives me a tremendous sense of fulfilment. I want to amplify the voices of individuals and the business community, to promote inclusion and opportunities for all. I believe these are key to nurturing economic growth in the area and achieving greater prosperity for all Sandwell residents."
Jan Denning has over 30 years' experience in travel, tourism and hospitality. She is director of The Hospitality Partnership and managing director of Destination Wolverhampton and The Black Country, two organisations working to promote promote the hospitality sector and attract more visitors to the region.
Jan said: "It's a sector that I absolutely love and have been involved with throughout my working life. On a national scale, it contributes over £106 billion to the UK economy, so it should be a key focus here too. Sandwell has huge potential, and I'm excited to be collaborating with Business Ambassadors from other sectors to benefit Sandwell and the wider Black Country."
Paul Haywood brings a logistical focus to the Sandwell Business Ambassadors. As managing director of family firm Lift Craft Ltd in Oldbury, he simultaneously oversees projects, people, quality control and systems, constantly trying to find ways to do things better in an environment where no two days are the same.
Paul said: "I grew up and trained in Sandwell, and became a Sandwell Business Ambassador to support our business community and bring jobs to the area. People here are reliable, kind and honest. We work in an exceptional part of the country and I am keen to work with the other Sandwell Business Ambassadors to help it flourish."
Our new Ambassadors will be using their knowledge and experience to help us identify the needs of the local business community, inform council policy, support the economic growth of the region and promote initiatives such as the Inclusive Economy Deal and the drive to buy and hire locally.
We are delighted to have Anjali, Gurpreet, Jan and Paul on board and look forward to #DoingBusinessBetter together in 2021. In the meantime, have a happy festive season!