Now's the time: four reasons to write a King's Awards for Enterprise application this summer
21st July 2023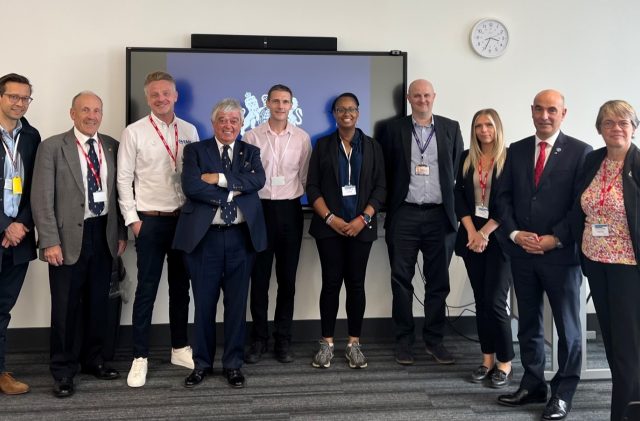 We encourage all eligible Sandwell businesses to make a King's Awards for Enterprise application. Put yourself in the running for the most prestigious business prize around. Entering for the awards takes time and dedication but, if you win, it is well worth the effort. Here are four royal reasons why you should go for it this year …
1) Potential business growth
Have a quick listen to Sandwell Business Ambassador Paul Hull, whose Tipton-based company KMB Shipping Group won a Queen's Award in 2021. In this video, Paul tells of KMB's international enquiries going up by a thousand per cent following the company's win in the category of international trade:
2) A boost to business morale
A King's Award for Enterprise is valid for five years. If you win an award, it will be presented at your company by a Lord Lieutenant, one of the King's representatives. You get permission to fly the King's Awards flag at your main offices, and use the official emblem on your marketing materials.
If your business wins a King's Award you will also receive a Grant of Appointment (an official certificate) and a commemorative crystal trophy. Finally, you will benefit from press coverage and great kudos from customers and suppliers.
It's an excellent way to show the world what you can do, and tell your team that you're proud of their work – so much so that it gets royal approval!
3) It's free
There is a considerable time commitment in applying for the awards. We've heard that setting aside around 50 hours is reasonable, for gathering all your evidence and writing a successful entry.
Otherwise, there is no cost attached. The eligibility criteria for entering is simply that your
organisation must:
Be based in the UK
Have a minimum of two full-time UK employees or part-time equivalents
File your company tax returns with HMRC
Demonstrate strong corporate social responsibility.
Your company can be a business or non-profit organisation.
4) Support is available with your King's Awards for Enterprise application
Sandwell Business Ambassadors, the Black Country Chamber of Commerce and the West Midlands Lieutenancy are among the organisations and people who are keen to see more King's Awards entrants and winners from the Black Country and wider West Midlands. We're here to help you with your King's Awards for Enterprise application.
Check out our King's Awards resources page for tips on applying, including insight from John Wood DL – our Sandwell Business Ambassador who is also a Deputy Lieutenant for the West Midlands. We update this page regularly. It contains the contact details for the West Midlands Lieutenancy Office, where you can seek further help with your application.
The application window for the 2024 awards will close on Tuesday 12 September 2023: start your entry now!
[Pictured: attendees of a King's Awards for Enterprise masterclass (entitled 'How to be a winner') hosted by the Black Country Chamber of Commerce in July 2023. From left to right: Charlie Burrell, MOOG Inc. Aircraft Group; John Wood, Deputy Lieutenant; Paul Hull, KMB Shipping Group (2021 winner); Tom Westley, Deputy Lieutenant; Peter Broadhead, MOOG Inc. Aircraft Group; Shani Gabbidon, IUVO Skincare; Ross Edgley, City of Wolverhampton Council; Sam Hale, Walsh Funeral & Memorials Ltd; Julian Morgan, KPM Marine (2022 winner); Hayley Hall, Black Country Chamber of Commerce].