'Kindness is prevailing': Mental Health Awareness Week and beyond
21st May 2020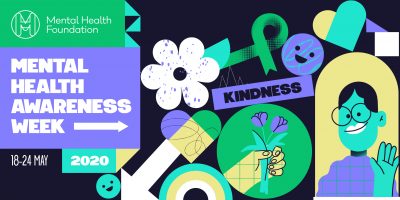 It's Mental Health Awareness Week (18-24 May 2020), hosted by the Mental Health Foundation. And it has never felt more important to nurture positive mental health and wellbeing than now, during this international health crisis.
This year's theme is kindness – something that the Mental Health Foundation and others have reported as prevailing during these uncertain times.
"Amid the fear, there is also community, support and hope", says the charity on its website. These are three things we are experiencing in abundance in Sandwell. Mutual aid groups have sprung up in communities across the borough. Businesses have swiftly pivoted to provide NHS supplies. Others are donating time and resources to support vulnerable people.
Leader of Sandwell Council Councillor Yvonne Davies has been delighted by offers of help from local people and businesses. "We have remarkable people here whose first thought is how they can help others," she said in March. "I really shouldn't still be surprised by them – but sometimes people can just amaze you."
Research shows that carrying out acts of kindness boosts our personal mental health and wellbeing too, so supporting others is mutually beneficial.
Like everyone, the Sandwell Business Ambassadors have been affected by the coronavirus pandemic. In our monthly meetings, held online, it is apparent that businesses, working arrangements, caring responsibilities: everything has changed.
And like many others, the Ambassadors' various organisations have been quick to show kindness through this difficult time.
To celebrate Mental Health Awareness Week we asked the Ambassadors how helping others has helped their own sense of mental wellbeing . . .
Pay attention to people
Chris Hinson is Director of IT and Communications at SIPS Education, a not-for-profit service provider for schools across Sandwell and the West Midlands. SIPS prioritises good mental health all the time, with a pastoral care package that includes a relaxation room at its HQ in West Bromwich, membership of positive workplace wellbeing provider BHSF and an approach to work and life that always puts wellness first.
"The coronavirus outbreak has exacerbated the need to look after the mental health of our workforce and customers," said Chris. "Not being able to put an 'arm around their shoulder' if they're struggling is difficult; not being physically with them means the indicators aren't as obvious.
"Challenges around isolation, health, family and financial worries can go unseen and striking the balance to get the right level of communication has been key. Too much and they can be overwhelmed, too little and they may feel cut off".
When the pandemic emerged, SIPS was quick to reassure all colleagues they would be taken care of by the SIPS family. Furloughed staff continue to be paid 100 per cent of their wages, while CEO Brian Cape keeps the entire organisation up to date with Microsoft Teams meetings.
"We've set up wellness, coronavirus support and social pages on our internal 'Connect' system where we welcome the dog pics, TV recommendations and homebrew ideas!" said Chris. "During Mental Health Awareness Week, several activities have been hosted online, including dance classes and quizzes. We're also rolling out My Whole Self this week [a national campaign from Mental Health First Aid encouraging people to bring their entire identity to work – be that cultural or ethnic background, sexuality, or health]."
"While the coronavirus pandemic is out of our control, it's so important to pay most attention to the things that really matter – people. Being able to make a difference to others is definitely beneficial to our own personal mental health too," said Chris.
It's OK not to be OK
Paul Hull is director and co-owner of KMB Shipping Group. Mental health is a subject close to Paul's heart and he's volunteered at various events to raise money for the mental health charity Mind. Paul also promotes the concepts of 'It's OK not to be OK' and 'It's good to talk' throughout his workplace, encouraging members of the KMB team to help one other.
"One thing I have learned in my experience is never to face things alone. We are always there for each other," said Paul.
You're not on your own
Sanjeev Gill is Director of Engagement at Sandwell College. "As we work with sixteen- to eighteen-year-olds in the college, we promote that we are removing the barriers to learning: you're not on your own, there is a light at the end of the tunnel, and we can do it together," she said. "I like being able to change a negative to a positive. Knowing I've helped others change their thought process gives me a sense of wellbeing too."
Further ideas on mental health, wellbeing and kindness
* See how your organisation can get involved with Mental Health Awareness Week.
* Visit Think Sandwell's page on giving support locally. It outlines how you can donate money or supplies, volunteer your time and more, either as an individual or through your business.
* Read up on why kindness matters in public policy (a report by the Mental Health Foundation).
And make time for yourself. Keep talking, and don't hesitate to get help if you are struggling. Think Sandwell has rounded up many resources around mental health and wellbeing – including phone numbers for free local support.