IWD 2021: 'Family and work should not be an either/or'
8th March 2021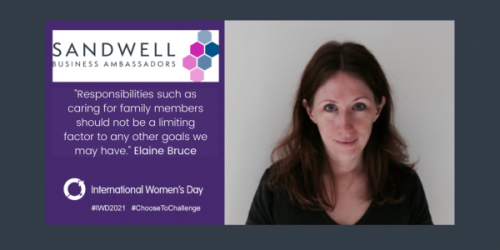 Elaine Bruce is a Sandwell Business Ambassador and Finance Manager at H&R ChemPharm. In this post for International Women's Day 2021, Elaine explains how the rise in flexible working due to the coronavirus pandemic has changed the balance between her work and home commitments – for the better.
"Prior to March 2020 my life as a full-time working mother looked like the following: chivvying the kids to get them to school or breakfast club, arriving at work feeling like a full day's work had already been achieved, working all day, then racing around on an evening making sure the kids were at the correct club, quickly trying to feed them before they went to bed, and sitting down for 30 minutes before going to bed myself, only to start the whole thing again the next day.
The last twelve months, whilst a struggle, have shown how, with support, working parents can achieve a better work/life balance.
'Being in the office was seen as important'
Pre-pandemic, I didn't work from home. In our business, with the exception of a couple of roles, being in the office was seen as important. We have now proved that for many roles being physically present isn't always necessary and work can be undertaken as effectively elsewhere.
Not only that but we can also look after children, home school, put on a loaf of bread (just me?), or – in my husband's case – put on the washing and hang it up. We can do so much more whilst also succeeding at work.
I believe that, on this International Women's Day, we should recognise what a great job we have all done with whatever we have had to juggle over this last year. We have had to quickly adapt to change, and now some of these changes have resulted in spending more time with our families.
We have seen that flexible working can have great benefits for employees and also employers.
'Our workplaces can be more accommodating'
I believe this increase in working from home will stay and is a step change to our working culture; one that may have come about without the Covid-19 outbreak, but which has been accelerated. Seeing a child come to a parent for a cuddle during a conference call without anyone batting an eyelid means that our workplaces can be more accommodating; that we can work more flexibly; that people with other responsibilities can 'do both'.
None of this is to say the last year has not been difficult or without challenges – I'm thinking in particular of the self-imposed pressures on the amount or quality of home schooling whilst working, staying positive and trying to keep a team positive throughout constant change, numerous IT issues and more.
Also, just because you can work all day when your desk is at home doesn't mean this should become the norm: it is important that some separation is achieved and, for many people, I think this is one of the largest challenges.
'Emotional resilience'
Near the beginning of the first lockdown Devya Athwal of Athwal Resourcing here in the Black Country led me through a number of sessions looking at conscious leadership. These sessions provided insights that supported my emotional resilience at such a difficult time and provided tools I could use to support others within the business.
Lauren Hayward, who runs Sandwell Flyers Gymnastics Club where my girls attend, did an amazing job in getting Zoom classes running at the start of the first lockdown. She has been there throughout, training, entertaining with quizzes and competitions, and providing structure when schools were not able to do so. It is this normality – time spent doing what they enjoy with their friends – that have stopped our kids going stir crazy and given the whole family the space to deal with the situation. In turn it is important that we are able to support these clubs so that when the pandemic situation passes we can return to the activities we enjoy.
The flexible working that has proven so successful in many roles over the last twelve months should mean that our workplaces can be more inclusive. Responsibilities such as caring for family members should not be a limiting factor to any other goals we may have. The choice of family or work should not be an either/or; it should be what is right for the individual."
Read our interview with Elaine for International Women's Day in 2020.
Happy International Women's Day 2021 from all the Sandwell Business Ambassadors. We #ChooseToChallenge inequality.