Get ready for International Women's Day 2021
4th March 2021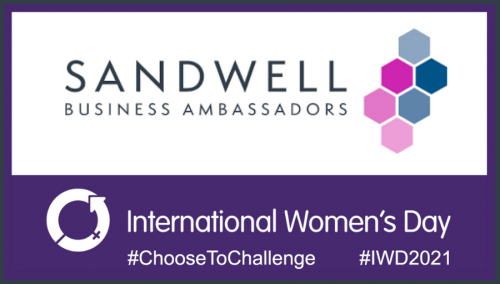 Monday 8 March is International Women's Day (www.internationalwomensday.com). This is a global event, started in 1911, that celebrates the social, economic, cultural and political contributions of women across the world. It is a day to highlight women's achievements, raise awareness about women's equality, lobby for accelerated gender parity, and raise money for female-focused charities.
This year's theme is 'Choose to Challenge', encouraging everyone to speak up and call out gender bias and inequity, thus raising awareness and bringing about change.
There are a number of free online events taking place on Monday.
At 11am, the Leaders LIVE YouTube channel will be hosting a live debate between women with leadership positions in industry, sharing their personal stories of challenge and celebration.
At 4pm, the Prince's Trust is hosting a panel discussion and Q&A about championing equality, diversity and inclusion in the workplace.
There is also a day-long online Global Community Conference organised by JoinHer Network, including speakers and entertainment from all over the world, celebrating women's achievements. Tickets start at £25.
At a local level, the Black Country Chamber of Commerce (BCCC) is using its social media channels to promote the #ChooseToChallenge theme, asking members to share photos of themselves in the Choose to Challenge pose while tagging @BCCCMembers to amplify the message. BCCC's Prosper magazine will also feature the amazing work that women are doing in business and industry across the Black Country.
The Sandwell Business Ambassadors encourage Sandwell businesses to celebrate the achievements of the women in their organisations. IWD is also a good day to run a fundraising activity for a female-focused charity such as Black Country Women's Aid.
Another way employers can mark the day is by reinforcing the responsibility of all staff to challenge bias and negative behaviour in the workplace. You will find lots of useful resources on the International Women's Day website.
Now's the time to get ready, so that on Monday you can take up the #ChooseToChallenge challenge, celebrate the that work women do, and help create a more equal and inclusive world for everyone.
Read our interviews celebrating International Women's Day 2020 with Sandwell Business Ambassadors Elaine Bruce, Sanjeev Gill and Chris Hinson. And look out for a guest post from Elaine on Monday, reflecting on ways she feels the pandemic has changed work and parenting over the past year.