"Of our four directors, three are women": Sandwell Business Ambassador Chris Hinson on International Women's Day
5th March 2020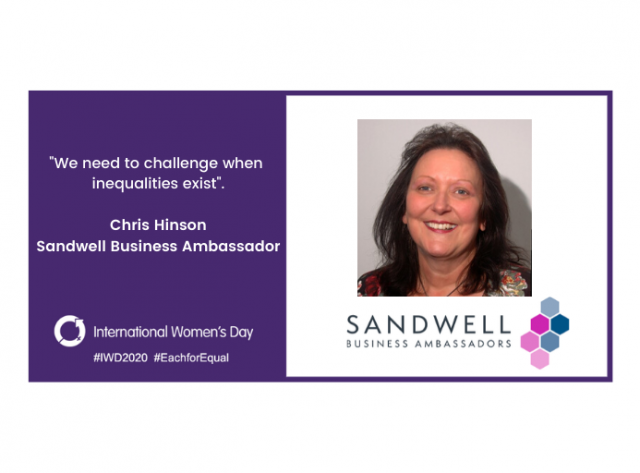 To celebrate International Women's Day 2020, with its theme this year of 'Each for Equal', we spoke to our female Sandwell Business Ambassadors about their experiences of being business leaders. Here's Chris Hinson.
Chris is director of IT and Communications at SIPS Education Limited, a not-for-profit company delivering infrastructure support services to the education sector. Born and bred in West Bromwich, Chris says she became an Ambassador to "give something back to the community that has invested so much in me".
Chris started out in IT in around 1991, when the industry was male-dominated and, to use her own words, "sexism was rife". Chris was undaunted.
"It was always apparent when people met me for the first time that they were expecting a male Chris, not a female one. I remember turning up to one meeting and being asked if I was there to take the minutes. At another I was given the drinks requests," she said.
"Fortunately, I'm a very confident individual and did not let this influence my career choice. But I did witness some female colleagues change career paths due to the actions of others."
Over her career, Chris has seen positive change.
"Many companies now offer schemes to accommodate women with commitments outside of work. They are proud to shout about the achievements of people of both genders and prove that they are an equal-opportunities employer," she said.
"Previously it was very much a 'tick box' exercise, but my experience now is different."
According to Chris, certain industries have a longer way to go than others.
"Politics is still not a great model of gender equality, and certain sports and sporting bodies need more female representation. Television and music too – not only do they still seem dominated by males, but inequalities of pay still exist".
Chris's own organisation, SIPS, is working hard to ensure the equal representation of women and men within its own team.
"We have flexible working policies, including job share and an option for some staff to work from home. SIPS has clear policies on equal opportunities, maternity and paternity leave.  We give compulsory training to all staff on many policies such as equalities at work, bullying and recruitment training, and we have excellent representation of both genders at all levels of management. Of our four directors, three are women, and until recently we had a female CEO".
Chris can see a clear way to ensure progression continues for everyone.
"We need to ensure that all companies, regardless of their size and sector, have – and enforce – relevant policies on recruitment, equal pay and discrimination. We need to challenge when inequalities exist and encourage management to find solutions to the difficult questions," she said.
"We need to ensure training opportunities are there for everyone and make sure women have a safe channel to report inequalities."
And what would Chris say to her 16-year-old self?
"Respect yourself and stick to your beliefs.  Be confident and don't take no for an answer.  Have the courage to speak out when you know things are wrong and don't beat yourself up over your mistakes, there is nothing you can do to change them after the fact, but learn from them, move on and become stronger."