Business Secretary visits Smethwick engineering firm
26th October 2018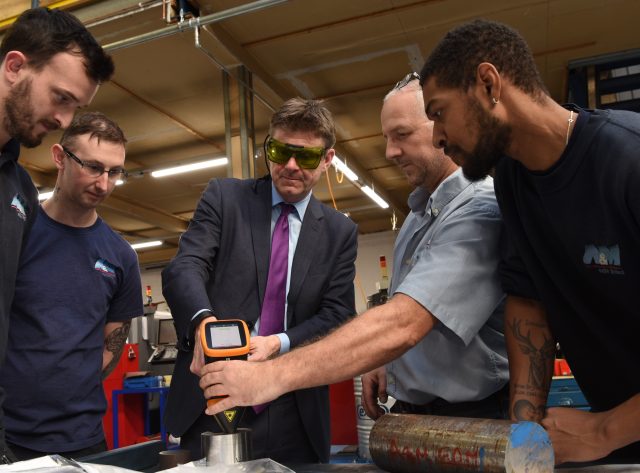 Greg Clark, Secretary of State for Business, Energy and Industrial Strategy recently visited Smethwick-based precision engineers A&M EDMÂ to talk to staff about what drives growth and the issues facing manufacturing SMEs in the region.
A&M has grown from a two-person start-up in 2002 to a business employing 67 staff with record sales of over £6m in 2018. It uses electronic discharge machines and CNC machining to design and manufacture precision components for a wide range of UK and international customers. The company featured as our first ever #madeinsandwell Monday star, back in February 2017.
On his visit to the business' Smethwick premises, Mr Clark met A&M's current and recent apprentices, who all study for academic engineering qualifications at Dudley College. They spoke about what motivated them to become apprentices, the work they undertake and the skills they are developing by working with experienced engineers.
A&M then showcased engines and components manufactured for aerospace and automotive customers, as well as a new CNC high speed machining centre and handheld alloy analyser in action, equipment that was part funded by a Black Country Local Enterprise Partnership grant to create new manufacturing jobs.
Afterwards, the Business Secretary discussed the implementation of the industrial strategy in practice with senior representatives of the Black Country Chamber of Commerce, Black Country LEP, Dudley College and EEF, the body for UK manufacturers.
Mark Wingfield, managing director of A&M EDM said, "We had an interesting and informed discussion about how the industrial strategy can accelerate West Midlands manufacturing and A&M's investment in developing our apprentices, skills and machinery as a thriving precision engineering SME."
Greg Clark said, "We're committed to supporting this innovative region. The industrial strategy for the West Midlands will harness its distinctive strengths to unlock greater growth and earning power across the region's cities and places."
Think Sandwell is delighted that A&M had the opportunity to give a government minister first hand experience of Black Country manufacturing.
This article was originally published on Think Sandwell on 11.10.18.