Anti-Slavery Day 2023: make a difference in Sandwell
18th October 2023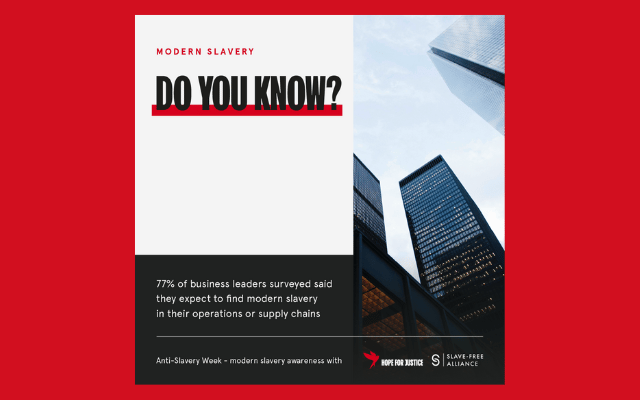 Anti-Slavery Day 2023 is a reminder to take action on the fact that over 49.6m people worldwide are trapped in conditions of modern slavery.
This number includes an estimated 136,000 people in the UK – some of whom will be in Sandwell. Modern slavery is not something that only happens far away.
Anti-Slavery Day takes place every year on 18 October. In 2023, the international anti-trafficking organisation Hope for Justice is hosting events and campaigns to mark the whole week.
What is modern slavery?
Modern slavery is where one person controls another for profit by exploiting a vulnerability. Usually, they force the victim to work or sexually exploit them, and keep all or nearly all of the money. This control can be physical, financial or psychological.
Types of exploitation include:
Sexual exploitation. Criminals trick or force vulnerable people, overwhelmingly women and girls, into the sex trade.
Forced labour. This is when a person has no choice or control over their work, where they live and who they can speak to. Someone else takes the money they earn.
Domestic servitude. A less common type of modern slavery, domestic servitude is when a person is forced to cook, clean or do childcare for little or no pay. They often live in the home with the 'employer'.
Criminal exploitation. Victims are forced to grow or transport drugs, shoplift or pickpocket or beg on the streets. Or they are used for fraud.
Forced marriage. Nearly 22m people are thought to have been forced into a marriage without consent. Nearly all of these are women and girls.
Source: 'A Typology of Modern Slavery Offences in the UK' (Home Office 2017). This report breaks the categories down further, into seventeen total types.
What is the aim of Anti-Slavery Day?
Anti-Slavery Day is to encourage governments, businesses and individuals to do what they can to prevent human trafficking, and protect victims of modern-day slavery.
Modern slavery facts
According to a Hope for Justice case analysis, many UK businesses have slavery in their supply chains without knowing it. However, research outlined in a report by the Ethical Trading Initiative and Hult International Business School found that 77 per cent of business leaders surveyed expected to find modern slavery in their operations or supply chains.
It's true that the researchers selected those companies for in-depth interviews because of their reputations as leaders on ethical trade. Or because they had been public about their commitment to addressing modern slavery. Nevertheless, this is still a shocking figure.
Further statistics show that:
£193bn is made each year from modern slavery. That's over £5,500 every second.
Women and girls make up 54 per cent of all victims worldwide. They make up 78 per cent of victims of forced commercial sexual exploitation
Last year, 16,938 potential cases were identified and referred in the UK. Plus 4,000 more cases where the potential victim did not consent to go through the official process
Traffickers make threats against victims' families, using fear and shame as weapons.
What can your Sandwell business do to help prevent modern slavery?
There are things that businesses and individuals can do to take steps towards abolishing modern-day slavery, and protecting victims.
Learn to spot the signs – this makes it harder for traffickers to hide their crimes
Use your voice: share content on social media to make others aware of the issue
Support Hope for Justice in its mission to see more people rescued from exploitation
Partner with Slave-Free Alliance. Increase your organisation's resilience to modern slavery through training, technical services, technology solutions and by joining its membership programme.
Slave-Free Alliance addresses modern slavery in organisations and supply chains globally. It delivers tailored services to make organisations' operations and supply chains resilient to labour exploitation and to address issues safely.
"Keep asking important questions"
Alan Taylor is managing director of MiGlass in Smethwick and our chair of the Sandwell Business Ambassadors. He said:
"Ever since Sandwell Council's Modern Slavery Programme Manager Wendy Sims presented at one of our virtual Sandwell Business Ambassador meetings in 2020, my newfound awareness has made me constantly ask the question: 'Is this too good to be true?'. The carwash example is perhaps obvious but if I do use one of those I am always careful to ask some questions and use my eyes and ears to satisfy myself it is all above board.

There are telltale signs of modern slavery – some more obvious than others – such as if someone has an untreated injury or if someone is being bullied through physical or mental means. It may be that you see a neighbouring house has a lot of occupants and no lights on in the evening, which would suggest no power is being provided. The list of possible signs are endless – but all instances of modern slavery point to abuse and inhumanity.

If we all keep asking important questions and being careful we can help the authorities beat this evil facet of society."
An event to honour Anti-Slavery Day 2023
Event: Roundtable: Balancing the E and the S in the ESG agenda
Date and time: Thursday 19 October, 11am – 12pm
Location: Online
Slave-Free Alliance is hosting this online event focusing on how businesses can balance the drive for renewables against the humanitarian consequences of the forced labour that produces them.
Resources to help end modern slavery
Sandwell Council has information and resources to combat modern slavery: go to Sandwell Council's modern slavery page.
For more information about modern slavery and the actions you can take against it, visit the Hope For Justice website.
For further resources see:
Government guidance on ending modern slavery
Details of the Safe Car Wash app from the Clewer Initative
'Spot the signs' information from anti human trafficking charity Stop The Traffik.
Also, see our previous related posts:
Modern slavery: recognising it, standing against it (2020, updated in 2021)
Make a difference in Anti-Slavery Week 2022.