£5.6m manufacturing unit to create employment for the region
8th August 2018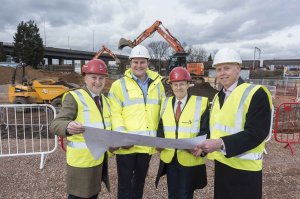 Property development and investment group Barberry has secured a £3.6m loan from the West Midlands Combined Authority (WMCA) towards a £5.6m scheme to build a 65,000 square feet industrial manufacturing unit in Aston, Birmingham. The scheme will create employment for Sandwell and the West Midlands region.
The financial support from the Collective Investment Fund (CIF) comes from a £70m fund set up by the WMCA to stimulate jobs, opportunity and growth. It is managed by Finance Birmingham and provides short-term loans to private sector developers to enable them to get speculative schemes off the ground. Its aim is to unlock a further £1bn in private sector investment over the next 10 years.
The Aston development will be on a 2.9 acre site at the Advanced Manufacturing Hub (AMH) in Queens Road, close to junction 6 of the M6. The AMH is a joint initiative between Birmingham City Council and the Homes and Communities Agency aimed at the manufacturing sector.
Barberry's scheme will create an estimated 116 new full-time jobs for the region and will indirectly employ around 130 personnel in the construction sector while the site is being developed. Work is expected to be completed this summer.
Mayor of the West Midlands Andy Street said: "The CIF is making a significant impact across the region's economy. This latest investment will help accelerate the development of sites where demand is strong and will therefore generate considerable economic value to the region."
Jon Robinson, development director of Barberry Developments, said: "It will provide regional, national and global occupiers the quality of accommodation needed to expand, create jobs or relocate their businesses within the West Midlands."
If you need help finding and securing funds visit our Access to finance page. We work closely with private-sector organisations to signpost businesses to the most appropriate funding sources. Our experienced business advisers can help you assess your current position to determine what type of finance is appropriate for you and then help you apply.
This article was originally posted on ThinkSandwell on 18.07.18