Have your say: help to shape Sandwell Council's business offering and website
26th September 2022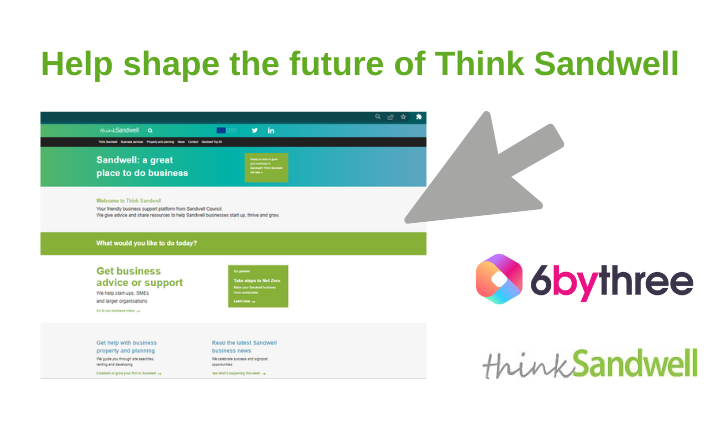 Sandwell Council will soon be upgrading its Think Sandwell website – and the team there is using this opportunity to find out exactly what Sandwell businesses want from the council.
This is a great opportunity for our Sandwell businesses to have their say on how Sandwell Council supports them, and what they would like to see from the website – currently www.thinksandwell.com.
As Sandwell Business Ambassadors, we always urge you to participate in consultations that can lead to better services and opportunities for our local business community. Whether or not you've used Think Sandwell lately, your input could be invaluable in guiding how Sandwell Council designs its services to best support you and your business needs.
Sandwell Council is working with digital agency 6bythree to carry out this research. One strand of the work is a survey to find out what Think Sandwell is doing well, what your business needs from Sandwell Council, and how the website can serve your business better.
The Think Sandwell survey only takes around ten minutes. By completing it, you will be in with a chance of winning a £50 voucher for a retailer of your choice.
Complete the survey here by Friday 14 October.
Notes on the Think Sandwell survey:
If you get interrupted, you can return later and continue where you left off.
Should you have any problems with the link or with the questionnaire itself please do not hesitate to contact the survey team at 6bythree who will be happy to help: hello@6bythree.com.
Sandwell Council and 6bythree are only using your contact details for the purposes of sending you this survey. Your personal details will not be used for any other purposes.
Participation in this survey will remain anonymous and will not lead to any unsolicited mail, phone calls or emails.
The competition to win a £50 voucher is being run by Sandwell Council's research partner 6bythree, awarded this work via a tendering process.
Here is the survey link again.