SANDWELL COUNCIL RECOGNISED IN AWARD NOMINATION FOR INNOVATIVE APP
19th April 2018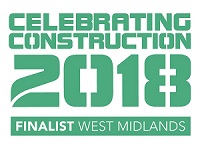 A business improvement app has secured a finalist place in the Innovation category at the West Midlands Celebrating Construction Awards, and Sandwell Council has been praised for contributing to its development.
BIDsmarter is a free business improvement app which helps local firms to self-assess risk and evaluate their suitability to work on a huge infrastructure project: the 11km Wednesbury to Brierley Hill tram route expansion.
The app has impressed the judging panel of the West Midlands Celebrating Construction Awards and secured the Midland Metro Alliance (MMA) a nomination in the Innovation category.
Sandwell Council's Business Growth Team (which manages Think Sandwell) worked alongside MMA and other business support partners (including the Black Country Growth Hub and the West Midlands Combined Authority) to develop the app.
The overall intention of BIDsmarter is to create high quality, digitally enabled and performance-driven supply chains for our region. Users of the app are guided through a business improvement plan which coaches them towards a solid position for winning work.
Paula Gray, Head of Procurement at Midland Metro Alliance said: "I am very proud that our partnership work aligned to the BIDsmarter business improvement programme has been nominated for an award. Pivotal to our collaborative success has been Sandwell's commitment and positive contribution in moving the project forward from its development stage".
Steve Massey, supply chain development officer for Sandwell Council said: "We are pleased to have been recognised for our hard work and professionalism across the full scope of supplier development – by our industry peers and by stakeholders".
Andy Cox, Board Member and Growth Hub Champion for the Black Country Local Enterprise Partnership, said: "The effective partnership between stakeholders on the BIDsmarter project shows the West Midlands is leading the way in adopting digital technologies, providing coaching for improving work-winning skills, and demonstrating innovation in managing whole supply chains".
Attracting over 200 entries from some of the biggest firms in UK construction, the awards recognise the very best projects in the Midlands built environment.
The overall winners will be announced at a ceremony on Friday 13 April. More than 700 business leaders, construction peers and innovators from the construction world will gather at the ICC in Birmingham to celebrate the year's best industry projects.
For more information about BIDsmarter visit www.bidsmarter.co.uk or contact the BIDsmarter team on 0121 501 2243 or by emailing info@bidsmarter.co.uk.
This was originally published 27.03.18 by Think Sandwell.