Sandwell Business Ambassadors join Sandwell Council to meet Chinese government officials
20th December 2018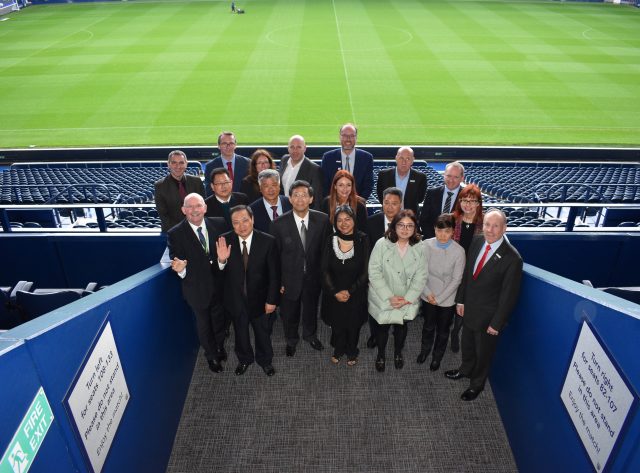 Sandwell Business Ambassadors join Sandwell Council
to meet Chinese government officials
Representatives from Sandwell Business Ambassadors were given the opportunity to join Sandwell Council and meet with a delegation of government officials from the city of Jinhua in China at the Hawthorns, home to West Bromwich Albion Football Club, to enhance links between the two regions.
In 2016, Sandwell Council and the Mayor of Jinhua signed a Friendship Agreement, and this year's visit was organised to strengthen mutual ties, generate interest and possible investment in Sandwell from businesses within Jinhua City and the wider Zhejiang Province.
Alan Taylor, Managing Director at MiGlass Ltd; Elaine Bruce, Finance Manager at H&R ChemPharm (UK Ltd); John Wood, Director – Group Corporate Services at Liberty Engineering Group Pte Limited; and Melvin Wingfield, Director at A&M EDM Limited, were all in attendance on behalf of Sandwell Business Ambassadors, and gave first-hand accounts of the benefits of operating a growing business in Sandwell.
Other attendees included Zhang Yuejin, Deputy Chairman of Jinhua Municipal Political Consultative Conference; Councillor Syeda Khatun, Deputy Leader at Sandwell Council and Amy Harhoff, Sandwell Council's Director for Regeneration and Growth.
Alan Taylor, Chairman of Sandwell Business Ambassadors, comments: "It was an honour to attend the delegation visit and represent Sandwell Business Ambassadors. We are all passionate about supporting the borough's ambitions to develop its business base, and it was great to be able to discuss this and how we operate our businesses with the delegation members.
"The continued relationship between Sandwell and the city of Jinhua is extremely important and we're looking forward to future opportunities."