'Be loud!' Corin's guide to rebooting, rebuilding and rebounding with Black Country 2.0
10th March 2021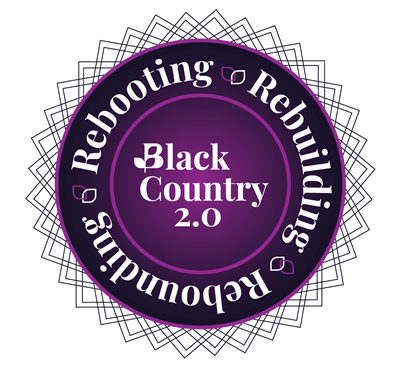 Corin Crane is CEO of the Black Country Chamber of Commerce and a Sandwell Business Ambassador. Last week Corin helped launch Black Country 2.0 – the Chamber's biggest ever campaign, which aims to help businesses reboot, rebuild and rebound as our region emerges from the Covid pandemic. 
Here Corin explains Black Country 2.0 in his own words and urges Sandwell businesses to get on board.
"In Sandwell, we know this campaign is coming at a critical time for many local businesses; it's not an exaggeration to say that the next twelve months will be make or break for them. The end of furlough is going to see unemployment increases, businesses have racked up record amounts of debt, there are delays at ports and with shipping routes for those businesses buying and selling overseas. The cost of Covid support will need to be repaid.
But there is now a cautious feeling of optimism in the air. Although many Sandwell businesses will suffer with the timescales set out in the government's new roadmap out of lockdown, we now at last have a plan – something that businesses have asked for since the pandemic began.
We now look towards July and August with a sense of a new beginning – whatever 'normal' will look like, we will all begin again to enjoy the freedoms we once took for granted.
It also feels like we have a head start on other countries around the world with our vaccine programme, which will put us in a strong position to champion 'Brand UK' in a year when we need to show our power as an economy.
So, we should take the government roadmap and start to plan how we promote Sandwell businesses.
Let's shout about our incredibly resilient and innovative businesses and their amazing workforces.
Let's champion our shops, our manufacturers, our tourist attractions, service providers, schools, colleges and university and our amazing public sector workers who have supported communities tirelessly.
This is what Black Country 2.0 means to me and at the Sandwell Business Ambassadors we would love to know what it means to you. So our ask is:
* Look at the key dates in the Covid roadmap and do a stocktake. How prepared are you? How prepared are your supply chains? What support do you need? How will you let your customers know you're fully back in business?
* Be loud when you have problems! The Ambassadors are here to help with any issues you have and organisations like the Chamber have connections across the country to make sure your voice is heard. Contact us.
* Don't do this alone! Talk, share and network – whether that is with the Chamber of Commerce or any other business groups, you'll gain so much from being part of a group of peers.
Read the Black Country 2.0 digital brochure here. You can reach the Ambassadors via our contact page – we're listening.