Last chance to #VoteBrum
11th August 2022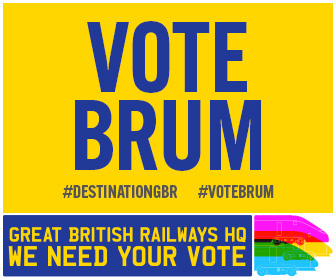 You have until Monday to play your part in ensuring major rail transport decisions are made here in the West Midlands.
Great British Railways (GBR) is the new public body for the UK's railways. It will decide where trains go, when they go and how much you'll pay. The government is running a public vote to help decide the location for GBR's new headquarters, and Birmingham is on the shortlist.
The vote closes on Monday 15 August, and there's more information about the Birmingham bid on the West Midlands Rail Executive's website. Strong public support will play a vital role in the decision.
Please encourage everyone you know to #VoteBrum and help spread the word on social media by using the hashtags #DestinationGBR and #VoteBrum, and by tagging @transportgovuk. 
Let's bring the heart of the rail industry to the heart of the country.