Celebrating International Migrants Day 2021
17th December 2021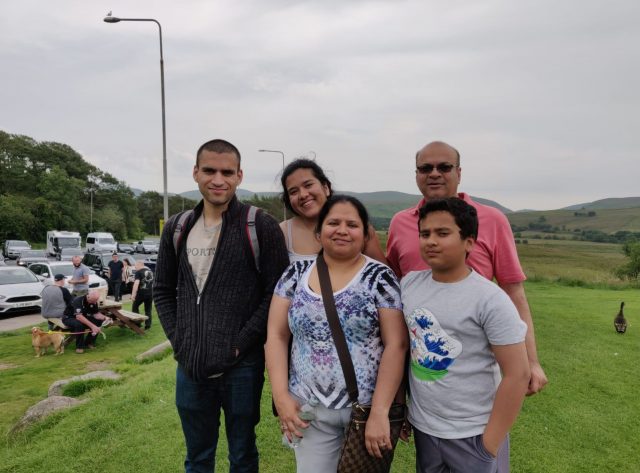 To celebrate International Migrants Day here in Sandwell, we interviewed Anjali Agrawal, our most 'international' Sandwell Business Ambassador. Having been born in India, studied in London, and also lived in Nigeria and the US, Anjali has a unique take on what it means to move around the world for education and work, and also how it feels to be a newcomer to Sandwell. Anjali is pictured here with her family on holiday in Scotland in 2019. Aahan is her elder son, on the left, Elina is her daughter, Neel is her younger son and Alok is her husband.
Anjali is the CEO of CMT Engineering, based in Cradley Heath.
Anjali, you lived in India until you were eighteen. How do you feel about your birthplace?

"India is a very exciting place. I don't go often to India now but, being Indian, I have a very biased view about India. There is so much ambition there. I hope India goes far. Family values make us Indians emotionally very strong. I have seen fewer divorces in India than in any other country that I have lived in."
Anjali says the things she misses most about India are the "food and the colours".
What are some of the most striking differences about working life in the various places you've lived?
"When I lived in the US, I was so impressed by the way Americans embrace different cultures. America is really a melting pot. And Americans work ever so hard. Their work ethic is to be admired.
 "I find that the UK has a much better work-life balance. We work less in the UK compared to the US, make less money, but weekly visits to the pub are oh so precious. I really like people in the West Midlands. They are very straightforward and sincere. I trust my team here at CMT.
 "I personally lived a very comfortable life as an expatriate in Lagos, the largest city in Nigeria, for eight years. Nigerian people have it much harder. They often live on a day-to-day basis. But they do not feel sorry for themselves. My mom has a Nigerian domestic helper. I asked the helper whether she preferred living in Lagos, or in her village. Her reply was so revealing. She said 'People starve in my village. Those who live in Lagos can eat'".
It can be tough, practically and emotionally, to move overseas – even when it's a voluntary and positive choice. What have you found most difficult?

"When I left Nigeria I left my proximity to my parents. That was hard. When I left America to come to the West Midlands, we lost a very good way of life. My children were doing very well in America. It was hard for them to accept the new life."
Anjali says, despite the difficulties of relocating, Sandwell "feels like home" and that she and her family have had a very positive experience in coming here. And her favourite thing about international relocation is "building new memories".

Obviously economic migration is very different to the experience of people who arrive in a new country as refugees or asylum seekers. But as someone with an international perspective, Anjali, what you think the UK could do better to support all people newly arriving here?
"The UK should work more on social assimilation. America accepts immigrants more warmly. In our local township in New Jersey, Diwali was celebrated. It felt very nice. Our local council had storytelling sessions about Hindu scriptures for the children. Our local library started displaying books on Diwali during that time. They would organise holi parties in the spring where we would play with colors. The focus was always on educating children about their heritage."
You have quite an international team at CMT engineering. What do you see as the benefits of hiring people from different backgrounds and cultures?

"A more diverse team is a better and a stronger team. Different people from different cultures have different approaches to the same problems. I think immigrants think outside the box more easily, tending to be less rigid about procedures and protocols, which enables work to move faster.
"I keep working to make my team, here at CMT, more diverse. I have east European and Indian staff. But I would love to have people from a few more cultures in my team".
Finally, is there anywhere else on earth that you'd love to live?
"I am truly happy here and very grateful. But I have always dreamt of having a small house by the beach."
And a house by the beach is one of the few things that the West Midlands can't offer! Thank you for your interesting insights, Anjali – we are very lucky to have you here.
About International Migrants Day
International Migrants Day is on Saturday 18 December – a United Nations day to celebrate human migration as well as recognise its challenges.
In 2021, the theme is 'harnessing the potential of human mobility' – identifying the ways migrants contribute their knowledge, networks and skills to build stronger, more resilient communities in the places they settle.
Migration and diversity in Sandwell
As you may know, Sandwell is one of the most diverse areas of the UK. In the 2011 census, around two-thirds of the population identified as white British and 30.1 per cent identified as from minority ethnic backgrounds, with prevalent groups including Indian, Pakistani, Black British, and Polish communities. According to the Office for National Statistics (2021), in 2011, 15.3 per cent of Sandwell's population was non-UK born, and this rose to 23 per cent in 2020.
Resources and further reading
Local / of local interest
Brushstrokes Community Project
A Sandwell-based charity working with the whole community and especially asylum seekers, refugees and newcomers, affirming the rights and dignity of vulnerable people across Sandwell, west Birmingham and the Black Country.
'Jump starting integration: Supporting communities to reconnect and thrive'
This recently published report from the Progressive Policy Think Tank contains case studies and research from Sandwell (as well as from Cardiff and Oldham).
Sandwell Language Network
A partnership of local organisations (including Sandwell Consortium, Sandwell College, Sandwell Public Health and SCVO) which aims to increase the availability of English language support in the borough, improve the quality of provision, and support language learners towards employability.
Sector Assessment 2021 from Migration Policy and Practice 
A report from Migration Policy and Practice that looks at the barriers to migrant integration, focusing on Birmingham and the Black Country.
National
Joint Council for the Welfare of Immigrants
A charity working to ensure immigration law and policy are based on sound evidence, promote the rule of law and are underpinned by respect for human rights and human dignity.
Migrant Voice 
A migrant-led national organisation which is building a community of migrant voices to "speak for ourselves and call for justice for all".