Here's a construction company 'doing business better' in Sandwell
17th January 2020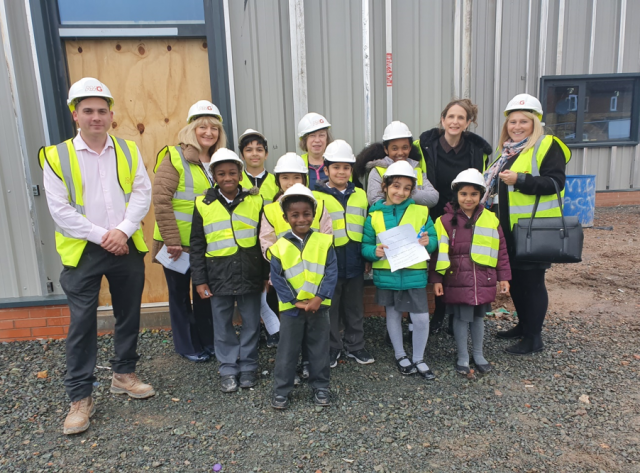 With its contract to construct a two-storey primary school in Smethwick, A M Griffiths and Son Ltd (AMG – www.amgriffiths.co.uk) is bringing wider benefits to Sandwell's young people and local economy.
The £3.8m project, for St Matthew's Church of England Primary School on Windmill Road in Smethwick, involves the demolition of existing buildings and the construction of a new modern school.
AMG, which has been operating in the Black Country for over 120 years, was chosen to carry out the construction project due to its commitment to local recruitment and the local supply chain. One of its policies when working in the education sector is to "integrate the construction project into the learning process and involve students with the work on site, therefore adding value to the curriculum rather than being an unwelcome disruption to learning".
Not only are the majority of AMG's subcontractors based in the Black Country, the company has been using the St Matthew's project as a chance to create work experience and apprenticeship opportunities for local people.
AMG has worked closely with the Think Sandwell team at Sandwell Council, for example, to give experience to apprentices working on the site as general operatives. Two Sandwell apprentices benefited from three and two weeks of work experience each, assisting various trades and working closely with the site foreman.
"The operatives had had limited experience on construction sites and the aim was to introduce them to the industry and offer a step up in their future careers," explained Paul Handley, Design and Build Coordinator at AMG.
Working with Think Sandwell and Dudley College, AMG has also appointed three full-time technical apprentices.
"They will be working through the different sections within our company. Each apprentice as part of their training will spend two weeks at St Matthew's," said Paul.
St Matthew's pupils are being involved too, giving their input into the design and taking part in site visits to educate them in the construction process.
"The visits were designed to help make the children feel included in the process and hopefully also educate them into some of the basic construction processes," said Paul. "The pupils then carried out school presentations assisted by the St Matthew's team."
Sandwell Business Ambassadors applaud the efforts of AMG and forward-thinking local authorities such as Sandwell Council, which seeks to award work to suppliers who go beyond their basic contract terms and secure wider benefits for the community.
We look forward to hearing even more stories of Sandwell projects with added social value following the launch of Sandwell Council's 'Inclusive Economy Deal'. This is an informal agreement between the council, residents and businesses to help build a better borough and ensure nobody is left behind.
Is your Sandwell organisation committed to 'doing business better'? Whether it's buying locally, using inclusive recruitment practices, engaging with schools, creating opportunities for young people, taking action for the environment, or supporting the wellbeing of your workforce, we'd love to hear your news. Contact us today or tweet us @Sandwell_BA with the hashtag #doingbusinessbetter.