'A very exciting future': our #BCBF_20 event with construction giant Balfour Beatty
12th October 2020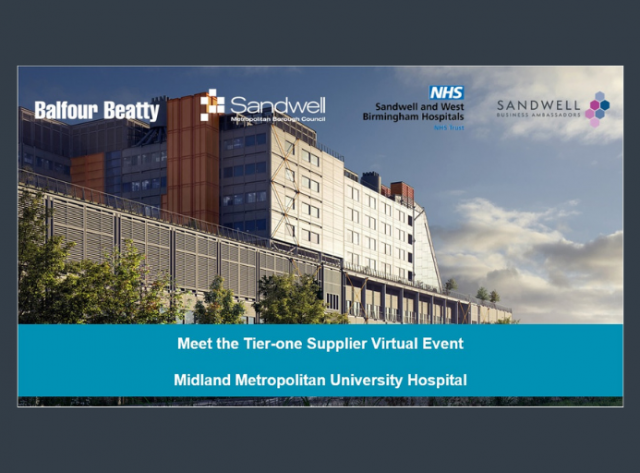 One of our overarching goals as Sandwell Business Ambassadors is to ensure local businesses stand in the best possible stead for winning work on local regeneration projects. According to a widely reported theory of economics, Local Multiplier 3, every pound spent in the area could be worth £1.76 to the local economy. That's good news not only for businesses, but individuals and communities too.
Achieving our goal means working closely with Sandwell Council and its principal contractors to champion transparent and responsible procurement, nurture strong relationships between buyers and suppliers, and ensure our region's SMEs know what it takes to supply to a big project – including timelines and expectations.
As such, we were delighted to host a virtual 'meet the buyer' event with Balfour Beatty as part of the third annual Black Country Business Festival, giving local businesses the chance to meet not only Balfour Beatty procurement chiefs, but also representatives from its tier-one supplier Flynn Interiors.
The online event on Thursday 8 October focused mainly on the construction of the Midland Metropolitan University Hospital (MMUH), but also referenced other Balfour Beatty projects in the region, such as development work at the Black Country Living Museum, Turves Green Girls' School, SKILTS School, Newport Innovation Park, and in the centre of Birmingham.
Corin Godsmark, account director for Balfour Beatty, said: "I've been working with our investment team around the West Midlands and there is a very exciting future."
MMUH sits within a designated regeneration zone, part of a wider Greater Icknield and Smethwick masterplan. Developments over the next three to ten years will involve encouraging connectivity – getting people out of their cars by enabling easier travel by canal, walking and cycling.
A major theme of the session was 'buying local'. Alan Taylor, managing director of MiGlass and our chair of Sandwell Business Ambassadors, pointed out that "every £1 with a local supplier is worth £1.76 to the local economy".
He added that large developments in the region, such as MMUH and Sandwell Aquatics Centre are "a rare opportunity for a large investment in the area" and that local businesses should make the most of them.
Bob Hallam-Allsop, MMUH project director, gave a sense of the scale of the £267m contract. When the hospital is complete, it will be the busiest A&E department in Europe, and provide maternity, children's and in-patient services to half a million people. The building will cover 85,924 square metres of floor space over ten storeys, and will house 675 beds and 13 operating theatres.
Bob also set out the major project milestones between when Balfour Beatty was awarded the contract on 11 December 2019 and the completion date of 9th June 2022. In summary, the main build will be happening throughout 2021, while 2022 will be about "making it all come alive". Work is currently on schedule, with the hospital due to open its doors to the public in the summer of 2022.
Richard Deaville, environment and social manager for Balfour Beatty, talked about the company's approach to social, economic and environmental wellbeing.
"It's our responsibility to leave a positive legacy," he said, explaining how Balfour Beatty is working closely with the hospital trust, Think Sandwell and SBA to deliver a number of targets around skills development and education, work experience and sustainable employment. These include a 70 per cent local spend, a 30 per cent SME spend and using 70 per cent local labour.
One of the 56 contractors already on site is Flynn Interiors. Managing director Jim Flynn gave a flavour of the benefits to the region of 'buying local'. In the 28 weeks that the business has been on the project, it has spent nearly £2m with local suppliers and £3/4m on wages for local people. The company has also worked closely with Think Sandwell to recruit young people in the area.
"No legacy makes me prouder than seeing these guys and girls starting out in their careers," said Jim.
In terms of what Balfour Beatty looks for in a contractor, Corin set out the key values they expect. Health and safety is a primary consideration, as is sustainability: "Balfour Beatty take the planet and green issues very seriously".
Delivering to agreed specifications, on time and to cost is critical, as is the effort to reduce costs and eliminate waste. Collaboration and displaying the right behaviours are two other key values, with a particular emphasis on diversity. Everyone working on the project is expected to "work hard, have fun, be kind to each other and respect each other".
Balfour Beatty operates a system of supplier accreditation called Constructionline, and contractors are required to achieve Gold level, so anyone hoping to come on board should do the necessary research. This does not apply to companies providing materials (for example, furniture) on a trade contract.
Attendees of the event were of course able to ask questions, so a useful Q&A confirmed that Balfour Beatty operates in line with BIM level two, and is happy to share the protocols they use with potential suppliers. It is also accelerating its move towards MMC (modern methods of construction) technology and is trialling a number of new IT applications on the MMUH project. Corin would be very interested to hear from businesses that could contribute their facilities, products or services in these areas.
The main message for potential supply chain businesses in the region is that Corin is "happy to have a conversation about each business and how you could support our work. We do have a big footprint in the West Midlands, so I'm sure there'll be opportunities".
We can forward your messages to Corin if you'd like to ask him a question. Contact us here.
Balfour Beatty is working closely with Sandwell Council on training and employment, so if you would like more information on that, email the Think Sandwell team at think_sandwell@sandwell.gov.uk.