ERC publishes mental health survey findings
8th June 2023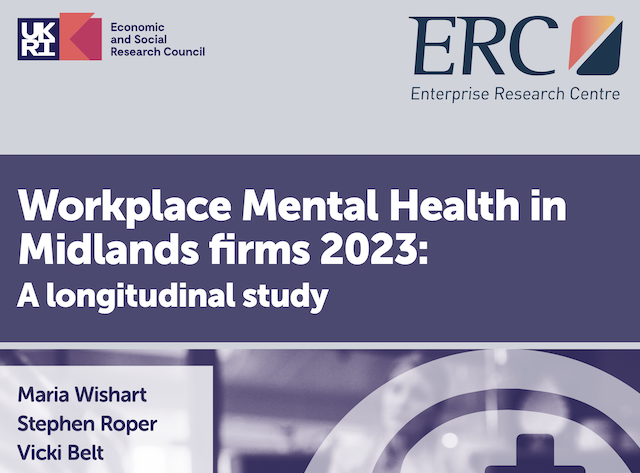 The ERC (Enterprise Research Centre) has published the findings from its latest survey of mental health attitudes and practices amongst Midlands-based firms. These show that mental wellbeing is a key issue facing companies across the region.
ERC surveyed 1,902 Midlands businesses between January and May 2023. It compared the results to previous surveys conducted in 2020, 2021 and 2022. The resulting report gives an insight into how the pandemic has affected mental health in the workplace, as well as how firms have been addressing this.
A major finding was that 'presenteeism' is a growing problem. This is when staff turn up for work, but actually get very little done, usually due to ill health. In the ERC's survey, the number of firms reporting presenteeism is back to pre-pandemic levels for the first time.
Another finding was that more companies are reporting that absence due to mental health is having a detrimental affect on business performance. 58 per cent of organisations in the Midlands said that this was an issue for them.
Better wellbeing means better business
Workplace mental health issues cost UK employers an estimated £56 billion a year in sickness absence, staff turnover and presenteeism. The positive flip side of this is that addressing mental health issues at work can help reduce absence, improve staff retention and increase productivity.
Sandwell Business Ambassadors promote positive mental health, and encourage everyone to actively do the same in the workplace. Visit our mental wellbeing page for advice, information, contacts and resources. You can download the ERC's full report here.