Covid-19: get twice-weekly rapid tests to help curb the spread
15th April 2021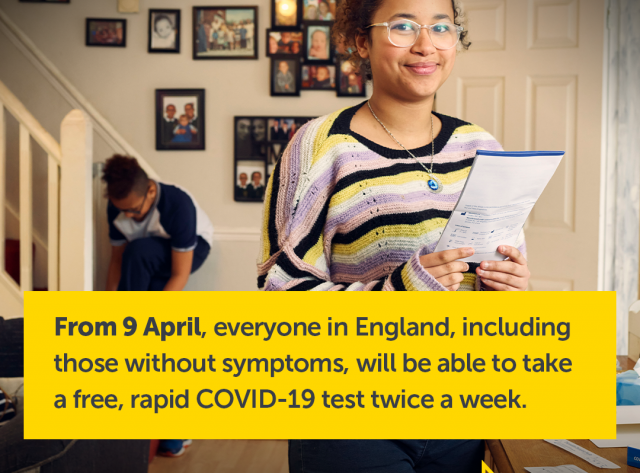 Everyone in England can now get two free rapid coronavirus tests per week, to pick up cases where no symptoms are showing.
The rapid test kits (lateral flow), give results in around 30 minutes, and can be picked up in Sandwell from testing centres between 2.30 and 8pm, from some pharmacies, or ordered online for home delivery.
Government advice urges people to make testing a regular routine.
If you do get a positive result, Sandwell Council urges you to follow it up quickly with a PCR test (polymerase chain reaction – the type you have at a testing centre where swabs are sent off to a lab) – to confirm the result.
Sandwell's Director of Public Health Dr Lisa McNally said: "It is crucial that people seek a PCR test within 48 hours of any positive rapid test result to confirm that result is accurate.
"Otherwise we may end up isolating unnecessarily, along with our contacts.
"The lateral flow tests are convenient because they give rapid results. They can be used regularly, by people without any COVID-19 symptoms, to help us spot infection early.
"If we test positive on one of the these rapid tests then we must begin our isolation and book a PCR test. We can do this by visiting www.nhs.uk/coronavirus or ring 119.
"Government guidance says that if you do not get a PCR test within two days of a positive rapid lateral flow test at a test site, you will need to self-isolate for 10 full days – even if you get a negative PCR result.
"You MUST also book a PCR test and self-isolate if you have COVID symptoms – a high temperature, a new continuous cough or a change to your sense of taste or smell."
Full details of all the testing options and how to book are available at Sandwell Council's website:
www.sandwell.gov.uk/testsandwell
www.sandwell.gov.uk/rapidtesting
If you would prefer a supervised test, you can also get a rapid test at West Bromwich Town Hall. This test is only for people with no symptoms.