Business growth platform is shortlisted for major award
8th August 2018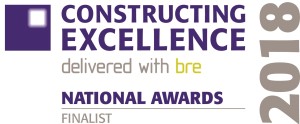 HVM City – a business growth platform that connects West Midlands firms to major projects – has won a finalist place in the Constructing Excellence National Awards 2018. Sandwell Council has been praised for contributing to its development.
HVM City (where HVM stands for high value manufacturing) is an interactive business growth platform. It tells West Midlands firms when business opportunities are arising from regeneration projects. By registering with HVM City, organisations can be alerted to and compete for work in both the public and private sectors – across the UK but with particular emphasis on this region.
Sandwell Council's Business Growth Team worked alongside partners (including the Black Country Growth Hub and the West Midlands Combined Authority) to develop the digital platform. It showcases the skills, knowledge and expertise of West Midlands companies to potential clients in the UK and overseas.
A collaborative entry to the Constructing Excellence National Awards 2018 focused on HVM City's capacity to boost the skills and competitiveness of the region's supply chain via its BIMwm framework and BIDsmarter digital technology drive.
The entry paid off, with HVM City shortlisted in the National Client of the Year category.
Paul Brown, Black Country LEP board member and chair of the business competitiveness group said: "I am very proud that our partnership work aligned to HVM City has been nominated for an award. Pivotal to our collaborative success has been Sandwell's commitment and positive contribution in moving the project forward from its early development stage".
Councillor Paul Moore, Sandwell Council's cabinet member for regeneration, said: "We are pleased to have been recognised for our hard work and professionalism in leading the HVM City project across the full scope of supplier development – by our industry peers and by stakeholders".
A Constructing Excellence National Award is a real badge of honour in the construction industry. Some of the biggest clients in the UK sector are nominated every year.
The winners will be announced at a prestigious gala dinner at the Marriot Hotel, Grosvenor Square in London on Friday 16 November. This is expected to be the biggest Constructing Excellence National Awards ceremony to date, with 1300 industry leaders and senior construction professionals in attendance.
At the West Midlands Celebrating Construction awards in April, HVM City scooped a similarly prestigious Client of the Year prize.
For more information about HVM City visit www.hvmcity.co.uk or phone 0121 569 2121.
This article was originally posted on ThinkSandwell on 18.07.18